1997 Mistral National Championships in Florida

From left to right: Dan Colton, (3rd place Superlight Masters Light Weight), Ron Simon, (3rd place Superlight Masters Heavy Weight), Dave Snoek, (4th place Superlight Heavy Weight), Mark Zimmer, (1st place Superlight Heavy Weight)
On November 8th and 9th of 1997, Tackle Shack hosted the Mistral One-Design National Championships in St. Petersburg Florida. In attendance were four members of Fleet 18.
There were 115 sailors, from all over the country, competing in a spectacular location. The event was held close to shore and in conjunction with a large boat show which provided a large number of spectators with an excellent vantage for the races. Conditions varied from day to day and race to race with winds in the 5-12 knot range and smooth warm water. The air temperature was in the low 80sand there was mild cloud cover. The events included IMCO, Open Unlimited, Superlight II, Sport (non-pumping), and Sport classes. There was even a freestyle demonstration at the end of the event concluding with a spectacular 6 person pyramid on three windsurfing boards.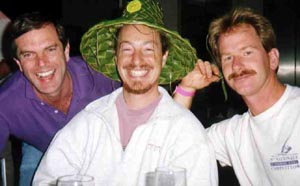 Dan Colton, Dave Snoek and Mark Zimmer celebrating sailing triumphs.
Dan Colton reporting.