1997 Margarita Run
Nice weather for the Margarita Run, not windy, just... nice.
Good turnout too, 12 sailors!
Photos by Diane.
Before
Glenn Taylor, Pat Stannard, Bruce Stannard, Keith Walker, Kim Zimmer, Mark Zimmer, Dan Colton (front), Mark, Rolf Jaeger, Jeff (front), Spike Leonard, Ray Domingo.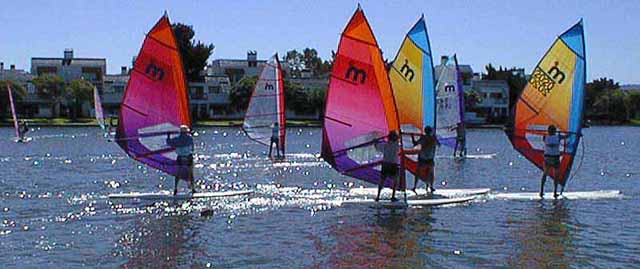 During
Rolf is checking his watch because the return race is a Reverse-Order-Of-Prior-Race-Finish-Start. The last place sailor gets to start first, followed by each earlier sailor separated by the time he or she hit the beach on the first race! When this pic was taken 2 sailors had already left and Rolf was keeping time to know when Kim would leave (in about 30 seconds!)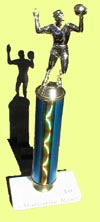 The new trophy for the event, donated by Dan Colton. The trophy depicts the Victor hurling insults at a bouy. Glenn is very proud to own it.